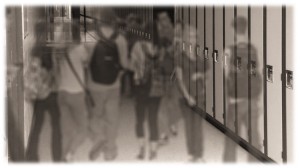 This is the text of my address to the graduating class of 2016.
Every year, I prepare a graduation speech, and every year I face the same challenge.  I want to say something appropriate to the occasion of course, but I want it to be memorable, relevant and ideally strike an emotional chord with the listener.  My greatest hope is that when I have concluded, people might pause for a moment and think: "That was nice. He spoke some good words there".
I was looking for inspiration and I found it the other day when I was walking through the empty hallway of the school. The 3:30 bell had rung long before and everyone had gone home for the day.  In fact I may have been alone in the building at the time, as the only sounds to be heard were my steps on the crisp clean tiles.
A silent school is a very unusual thing.  Typically a hub of activity, one of the first things you notice when you are standing there alone, is that a school echoes in a funny way.   Walk down that hallway when classes are in session and you will hear students talking and laughing; you will hear abbreviated choruses of harmony emanating from the music room, the crisp crack of floor hockey sticks off of the gym floor, the squeak of a locker door followed by the deep thud of books being tossed inside – a humming microwave over here, a churning photocopier over there.  Above it all you will hear elevated "teaching voices" which inexplicably rise above everything else as they challenge students to solve an equation or respond to a short story.
And the smell…the smell of a busy school – that is hard to describe.  Imagine a mixture that included scented hair mousse, day old lunches, the sharp smell of washroom deodorizers, and the musty odor of sweaty gym class t-shirts.   At one end of the school, exhaust fumes from idling school busses seep through the cracks in the window casing, while at the other, some delightful cooking project in the home ec room fills the air with the aroma of fresh pizza dough or the sweet scent of cinnamon.
But in an empty school, it all changes.  It is silent.  No sights, sounds or smells compete for your attention.
Standing there in that empty hallway I paused, closed my eyes, and let my imagination re-create all the activity that occurred there.  I pictured the hundreds of people who walked those halls over the 55 years that building has been in existence and I swear that just for a moment, I felt myself standing there amongst every single one of them.
When you think back to your high school days, I suspect that what you immediately recall is not the ceremony, like this one, that marks the end of a your high school education.  I believe that most people think about those times that were largely unremarkable.  I believe they recall the sights and sounds of those busy school days that formed their routine, and where they were surrounded by the people they grew up with in the town they called home.
That is the school experience you carry with you.  But schools and communities evolve and ours are much different than they were 10 or 20 years ago.  They will be at least that much different 10 or 20 years from now.
However, just as I could sense the presence of those who at one time graced that empty hallway over the last 55 years, if you listen, you too can hear their echo.  It will ring in  your head and in your heart, as your experiences during these formative years  are reflected in your values, in your attitudes and in your actions.
I urge you graduates to take a moment at some point during the evening to step back and purposefully survey the people here in the room.  The group here on this stage is not likely to again be together in the same place at the same time.  With that in mind, take in everything you can to fuel fond memories upon which you may someday call when you are sitting in a quiet room and the excitement and emotion associated with high school graduation has faded.
You will soon have your diplomas in hand, and with that, you are leaving your grade school years behind you.  For some of you that might also mean leaving this little town as you move to your next stage in life.
But there is one thing I can tell you for certain:  Your school and your home town will never leave you.